March 25, 2019
Does your Office Shredder Still Have Your Back?
Years ago, most businesses relied on office shredders to shred confidential information. This process was accepted by most as a secure practice. However, the downsides of using a manual shredder started to emerge.
The Unfortunate Disadvantages of Manual Office Shredders
Although considered beneficial at one time, office shredding equipment has several distinct downsides:
Takes up valuable time
Often needs servicing
Adds to labor costs
Confidential information is not always secure
Most shredded materials from office shredders are not recycled
Manual office shredders are slow. It takes a lot of time to shred a handful of documents and imagine shredding several years of records that need to be purged. If the machine held up and did not need servicing mid-way through you were lucky. Now count the labor hours it takes a person to feed the shredder. This usually adds up to cause some red on the balance sheets for that pay period. And these negative factors are only some of the disadvantages office shredders are known for.
Is Information Really Confidential when using an Office Shredder?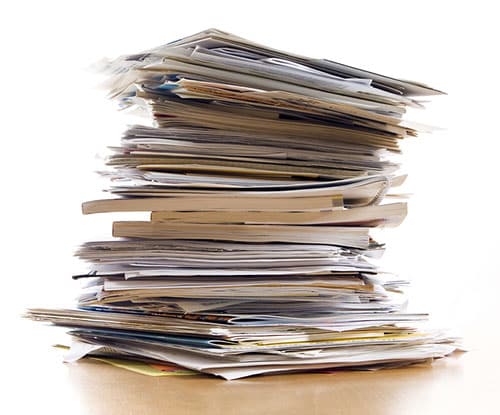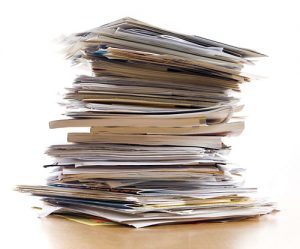 With office shredding methods being so slow and papers being handled in an unsecured manner, you could face other major consequences. Think about Susie seeing Ann's payroll. Yes, they basically have the same job, but you were paying Ann more. This and other confidential information could be easily obtained during the manual office shredding process.
Office Shredders are Typically Not Eco-Friendly
The next is all about green. Green shredding that is. Most papers simply shredded by a manual office shredder end up in the trash. Thus, this does not make Mother Nature too happy. Recycling your shredded material is easy and using sustainable practices is always something California businesses like to promote!
Why a Mobile Shredding Service is a Better Option compared to Office Shredders
The issues and problems associated with manual office shredders gave rise to today's professional mobile shredding industry. Documents are collected in secure bins and shredding trucks are used to quickly and easily destroy a large amount of materials at one time. In fact, one can even watch as all their documents are securely destroyed in a few minutes. Next, you receive a Certificate of Destruction. Finally, when your documents are turned into confetti the materials are taken for recycling. In this scenario, everyone wins. Try to get that from a manual shredder!
The best part may be that mobile paper shredding is affordable. Don't believe us? Consider this:
Cost to Shred 100lbs of Paper In-House
| | |
| --- | --- |
| Labor ($18/hour) | $136.26 |
| Shredder (Amortized over 3 years) | $23.61 |
| Shredder Supplies | $6.25 |
| Repairs/Electricity | $5.00 |
| Secure Container(s) | Not Included |
| Trained, Bonded Service Professionals | Not Included |
| Certificate of Destruction | Not Included |
| Annual TreeSaver Certificate | Not Included |
| Total Cost for 100lbs. once a month                  | $171.12 |
Calculations:
High capacity office shredder shreds approximately 20 pages/minute
9,090 pages/100 lbs. takes approximately 454 minutes or 7.57 hours to shred
Labor @ $15/hour + $3/hour benefits = $18/hour
High capacity office shredder costs approximately $850
Annual office shredder supplies $75
Annual office shredder maintenance and electricity $60
In reality, can you really afford not to use a professional outsourced shredding service?
If you want to save money and get your confidential documents securely shredded, call PROSHRED® San Francisco!  Serving the Bay Area, we will not only have your back with a Certificate of Destruction but will make your workplace more secure. Call (925) 271-7566 to learn more or schedule a service.