November 5, 2020
Guide to On-Site Data Destruction
There are many options in the world of data destruction, from drop-off sites to once-a-year programs to scheduled, routine destruction services. With so much to navigate, it's important to start with the basics. 
In this guide to on-site data destruction, you'll begin to understand the key differences between one-time and routine shredding as well as how mobile shred trucks are the key to secure and convenient destruction of sensitive, confidential data. 
If you've recently downsized your office space or are looking to get rid of files that have been digitized, an on-site, one-time shredding service is ideal to help you securely dispose of all of those unwanted files in bulk. Whether you have just a few piles of confidential documents from a home office or a large warehouse full of old file boxes, on-site shredding will keep you from having to lug all of those heavy items to a drop-off location, saving you time and energy. 
But if you routinely go through a lot of paperwork, scheduling an ongoing document shredding service is the solution you're looking for. This way, you won't have to worry about piles of documents stacking up over months when you can schedule a shredding service that comes to your door on a daily, weekly or monthly basis.
Keep reading to learn more about the benefits of on-site shredding, how it works and what materials you can have securely destroyed. 
Benefits of On-Site Shredding Services
In a world that's becoming more and more interconnected with each passing day, it's become more vital than ever to protect sensitive documents and confidential data to keep it from ending up somewhere it shouldn't. In fact, federal laws like HIPAA and FACTA prohibit some information from being compromised or leaked. 
It's vital that certain types of organizations, like medical offices, use professional shredding services that can offer no-contact, secure data destruction services in order to protect sensitive patient information.
In order to protect your business, it's important not to let old documents and papers pile up with no formal destruction system. Routine professional shredding of unnecessary files and outdated data can help keep information from sitting around, vulnerable to criminals or employees who wish to do your company harm. 
Professional shredding is also recommended over in-office shredding for many reasons. Besides freeing up manpower by not having employees shred large amounts of documents with office-sized shredders, it also offers a more secure and streamlined process. Papers are shredded in such a way that they are unrecoverable, unlike some traditional shredders. 
How it Works
When you schedule an on-site data destruction visit with a shredding company like PROSHRED® San Francisco, mobile shred trucks are dispatched to your home or business. Employees will transfer your documents from a locked container to a security bin to be placed inside an automated shredding system, so your documents are never touched by human hands. 
From there, you can watch the process as the PROSHRED® mobile shred truck securely destroys your documents, and once the job is completed, you will receive a Certificate of Destruction. This certificate serves as proof that all of your documents were professionally destroyed during our on-site destruction process. 
After shredding, the destroyed materials are taken to a local recycling center for disposal. 
Hard Drive Disposal and Destruction
On-site destruction isn't just for paper: we also shred and dispose of old hard drives using mobile shred trucks. Why shred hard drives when they've reached their end of life? Because simply erasing data from a hard drive isn't enough to ensure the security of business and personal information. Criminals and hackers can still access information on a discarded hard drive even if it has been wiped. That's why using a hard drive destruction service is imperative. 
Once your hard drives have been shredded, they are taken to local recycling companies that specialize in electronics recycling. There, the shredded materials are further processed and disposed of safely. 
Our Mobile Shredding Trucks
PROSHRED® San Francisco mobile shred trucks are equipped with industrial-sized paper shredders. This means they are capable of handling any size document destruction job wherever they go. 
We have two different kinds of shredding trucks to allow for different shredding preferences. Pierce-and-tear shredding trucks create holes in the paper and rip it into pieces so that it cannot be put back together, while single-shaft rotary grinders cut materials using four cutters and a counter-knife. We also offer three different shred levels for increased security.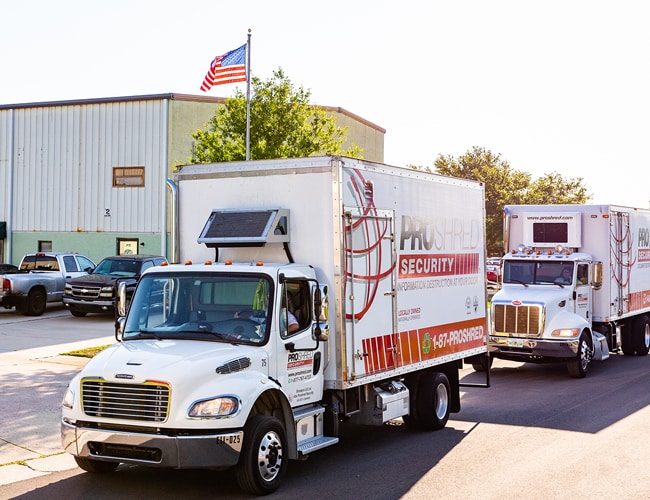 Choose PROSHRED® San Francisco for Your On-Site Shredding 
If you're looking for a shredding company in the San Francisco Bay Area that can check all of your boxes for on-site data destruction, look to PROSHRED®. We can handle all sizes of on-site shredding jobs and our mobile shred trucks will come to you and shred your materials right at your door, eliminating the need for travel and worry about the security of items en-route. Schedule an on-site service today! 1-925-271-7566