March 29, 2021
Spring Clean Your Office with One-Time Document Shredding
When spring rolls around each year, we all take a sigh of relief. Warmer weather and longer days seem to boost everyone's mood, and make it easier to complete tasks that we put off through the long winter months. If your office is looking more like the inside of a filing cabinet than a place where you can get work done efficiently, it may be time to sort out your old documents with a one-time document shredding service.
What is One-Time Document Shredding?
At PROSHRED® San Francisco Bay Area, our one-time document shredding service, also known as purge or bulk shredding, is designed for businesses that need a single cleanout of their old documents. Our secure mobile shredding trucks will visit your location and destroy all of your documents, whether you have a few boxes of papers to shred or a room of full filing cabinets to empty.
How does purge shredding work? Call our office to schedule an appointment time for one of our customer service professionals to bring a mobile shredding truck out to you. They will collect your documents and place them inside the truck to be shredded on the spot- you can even watch the entire process through a screen that is mounted on the side of the truck! Our shredders are highly efficient, capable of shredding thousands of pounds of paper in an hour and getting the job done in just a fraction of the time it would take you to shred documents by hand with a commercial shredding machine. Once the shredding is complete, you will be provided with a Certificate of Destruction certifying that your documents have been securely destroyed, and the paper shreddings are taken to a recycling facility to be turned into new paper products.
Our bulk paper shredding services are great for any type of office or industry, but are most ideal for companies dealing with any of the following:
Moving offices
Annual or bi-annual cleanouts
Consolidating on the corporate level
Wrapping up audits or finalizing litigation
Getting into compliance with privacy legislation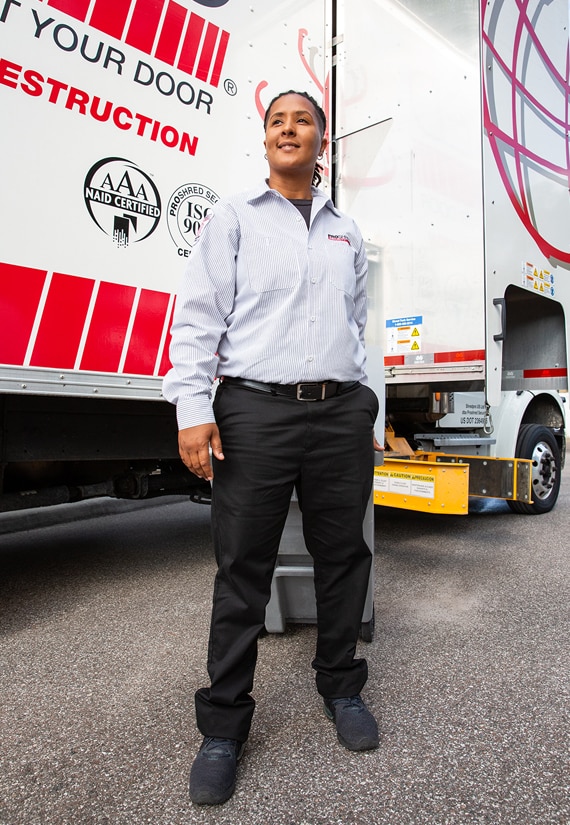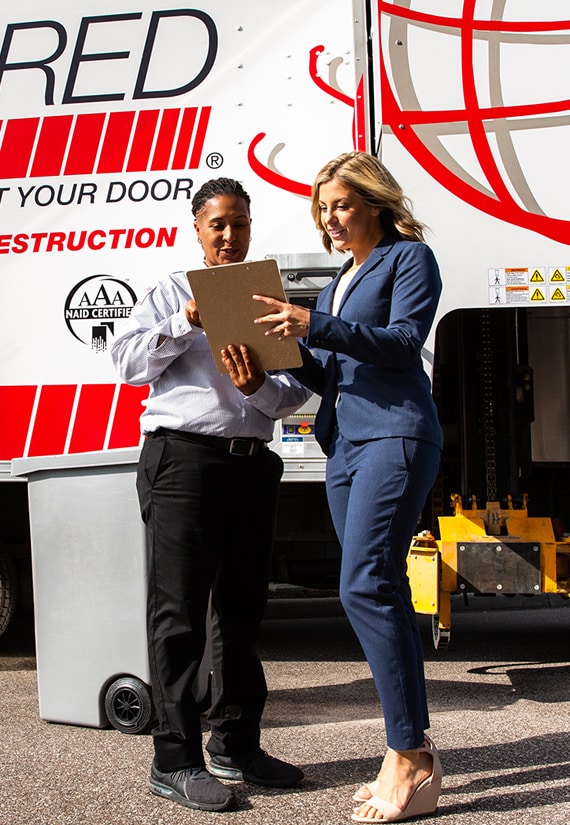 Benefits of a One-Time Purge Shredding Service
If you have a business that goes through a lot of paper and needs consistent shredding services in order to keep from being overwhelmed with documents, scheduled on-going document shredding is the best way to keep on top of shredding without placing the burden on staff. But sometimes you don't need this service, and that's when we recommend an annual or bi-annual purge of documents. There are several benefits to using a professional one-time shredding service:
Save Time
Our state-of-the-art mobile shred trucks can tear through a load of paper in the blink of an eye, something that the old and outdated shredder in your office breakroom could never accomplish. Office shredders can only handle a few papers at a time, so when you have a lot of documents to shred, shredding time can add up quickly. Don't waste valuable time and manpower on shredding when you could get it done in seconds by professionals who know what they're doing.
Save Money
The loss of productivity as well as the amount of money you'll spend maintaining a commercial shredder yourself are two big reasons why you should contract with a professional shredding company for a purge shredding service. We require no contracts and no hidden fees with a one-time shredding service, so you can rest assured you're getting the most bang for your buck.
Reduce Your Risk
Perhaps the most important reason to carry out a bulk shredding service is to ensure your confidential documents and sensitive information are protected. As certified shredding professionals, we know the laws regarding privacy and security within every industry we serve. This way, we can help you stay compliant with laws and regulations as well as keep your office free of unnecessary clutter.
100% of Documents are Recycled
Many people who utilize office shredders have no idea what happens to the shredded paper, but oftentimes, it gets tossed in the trash without anyone noticing. With a PROSHRED® San Francisco Bay Area shredding service, 100% of the paper we shred is recycled and made into new paper products. If you're looking to implement more sustainable practices at your business, a scheduled purge shredding service is a great way to do that.
Schedule One-Time Document Shredding Today!
At PROSHRED® San Francisco Bay Area, helping our customers maintain their privacy is of utmost importance. We're dedicated to protecting your confidential business information as it goes through our secure one-time document shredding process, ensuring the highest level of protection for your sensitive data. If you're looking for a company that can handle a large office cleanout in a single visit and get you back to your day quickly, give us a call: 1-925-271-7566