March 29, 2023
How to Protect Confidential Information and Save Energy
We live in a world where sensitive information is everywhere. Whether you're a business owner or an individual at home, people work with confidential information on a daily basis, and this poses a threat if that information gets lost or stolen. That's why it's so important to protect data and consistently ensure that what you don't need is properly destroyed.
If you want to safeguard your sensitive information while also being environmentally conscious and save energy, it can be difficult to know what to do. After all, doesn't shredding paper and destroying hard drives create trash that will just end up in a landfill? The good news is that there are options for those who want to guard their data while also saving energy and protecting the environment.
Why should you worry about protecting your data?
Before you understand how you can defend your information while remaining environmentally conscious, it's important to understand why you should worry about protecting your data. This modern-day world is one where information is stolen frequently. Thieves use all different kinds of methods to steal sensitive information about businesses and individuals alike. Physical documents with social security numbers, addresses, tax information, and other sensitive data are frequently stolen when they're not safely stored or destroyed. Hard drives that contain documents, tax information, or bank information can be compromised or hacked if connected to unsecured networks.
Data breaches, stolen information, and identity theft are all things that happen every day, and it's crucial to take preventative measures from those things happening to you to avoid the financial repercussions that occur when someone untrustworthy gains access to data that they shouldn't have. Fortunately, one of the best and easiest ways to protect your information is to regularly destroy things that you no longer need in order to prevent your sensitive documents from falling into the wrong hands.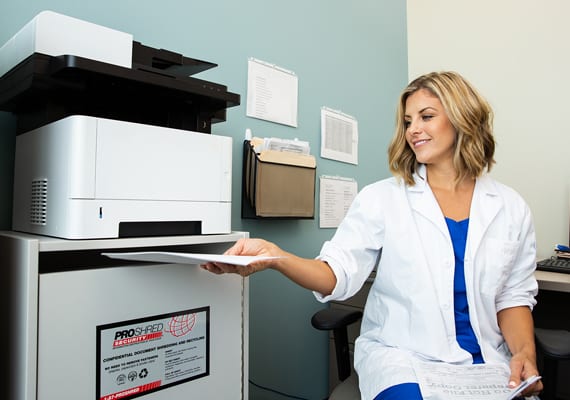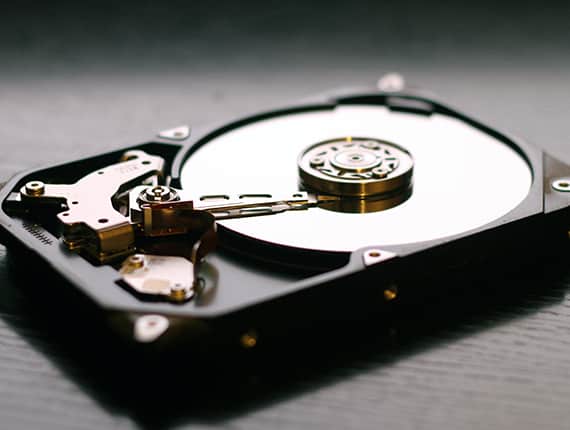 What are your options for data destruction?
Depending on whether your data is physical like a document containing tax information or digital like sensitive information stored on a hard drive, there are several different options for data destruction. These range from document shredding and hard drive destruction to product destruction and IT asset management and disposition solutions, and PROSHREDⓇ San Francisco Bay offers environmentally friendly services for all of these options.
One-Time Document Shredding
Perfect for individuals and businesses alike, PROSHREDⓇ San Francisco Bay's one-time document shredding is a single clean-out and shredding of unwanted documents. Our on-site trucks will come to your home or business and our efficient workers will gather and destroy any sensitive information you have, helping you protect data.
On-Going Document Shredding
Similar to one-time document shredding, our on-going service is designed for businesses that work with a large number of physical documents that contain confidential information. Our mobile shredding is scheduled regularly, so you don't have to worry about remembering to destroy your data. Instead, we dependably and reliably come to you on a consistent basis to help you protect your information.
Hard Drive Destruction
In today's world of computers and technology, not all sensitive information is stored physically. If you have old hard drives with important data that you need to destroy, looking into hard drive destruction is crucial. After all, keeping hard drives lying around can lead to them being lost or stolen, thus compromising your information. Even simply erasing the information stored on a hard drive is not enough to guarantee its security, since skilled individuals can still retrieve some of the data. Hard drive destruction is the only way to guarantee that your information is safe.
PROSHREDⓇ San Francisco Bay's hard drive destruction service is designed to ensure that your hard drives are properly and thoroughly destroyed in order to protect your information. We even offer mobile, on-site hard drive shredding services, so that you can watch your drives being destroyed, giving you the peace of mind that your business and information are safe.
Product Destruction
Not all sensitive information is stored in the form of physical or electronic documents. Sensitive information can still be obtained through things like company ID badges or recall products. Properly destroying these products can guarantee that your business's information remains secure, and that's why we've created our product destruction service. This service is perfect for companies in the financial, legal, medical, educational, or government sectors that consistently create and use sensitive products such as uniforms, security badges, CDs, or film.
IT Asset Management and Disposition
IT asset management and disposition is a service designed for business and commercial clients who need assistance with the destruction or wiping of hard drives to protect data, moving servers, or changing from an existing data center to virtual storage.
How can you safely destroy your data while also saving energy?
There's a lot to know about ensuring that your data is destroyed effectively and safely while also remaining environmentally conscious. Fortunately, PROSHREDⓇ 's services are designed to make certain that your information is thoroughly destroyed while also helping you save energy. PROSHREDⓇ San Francisco Bay is dedicated to creating information destruction solutions that are environmentally responsible.
For example, we have partnered with recycling centers across the San Francisco Bay area. After your documents have been shredded, we will then deliver the paper to these recycling centers where they will be turned into goods such as paper towels, copy paper, and tissue. In fact, our services don't just keep the environment from becoming harmed, but they create a positive impact on the environment as well. We estimate that our company has helped customers conserve over a million pounds of air pollution, almost 400,000 trees, millions of kilowatt hours of energy, millions of hours of oil, almost 70,000 cubic yards of landfill space, and over 160 million gallons of water.
We understand that guarding your sensitive data is your top priority and that you care about saving energy, as well. That's why PROSHREDⓇ San Francisco Bay is committed to providing you with easy, hassle-free services that guarantee the safety of your information while maintaining a responsible attitude toward the environment. If you've been searching for ways to "protect data" and "save energy," we encourage you to contact us today to learn more about our paper shredding service and how we can assist you.