San Francisco Shredding Services
Data theft is a huge concern for companies and individuals alike. From credit card fraud to leaked prototypes to consumer data breaches, your information in the wrong hands can wreak havoc on your business or personal life, or even lead to lawsuits and fines. At PROSHRED®, we offer shredding services to help you protect your confidential information. From regularly scheduled paper shredding to hard drive destruction, we can help you stay compliant with security laws and keep your private information private.
San Francisco Document Destruction
Our San Francisco paper shredding services are designed to be convenient, secure, and cost effective for everyone, whether you run a home business or manage a large corporation. Our mobile shredding trucks and trained technicians make the paper shredding process easier than ever.
Ongoing Shredding: If your organization generates a lot of paperwork or consistently handles sensitive information, you may need to consider a regularly scheduled shredding service. We provide ongoing services that you can schedule on a daily, weekly, or monthly basis, depending on the amount of documents you need shredded. When you choose this service, we will provide secure bins for you and your employees to keep unwanted documents between pickups.
One-Time Paper Shredding: Many of our customers choose to opt for shredding services only once a year or even every few years. This one-time document shredding service is ideal for when you need to get rid of a lot of documents in a short amount of time. Instead of having to box up all of your papers and files and transport them to an off-site location, we can come to you! Our San Francisco purge shredding service allows you to save time and money, as our PROSHRED® Customer Service Professionals will do all of the heavy lifting and shred your documents quickly and securely right in your parking lot.
Drop-Off Shredding: Sometimes it is not economical to schedule a mobile shredding service, so it's best to choose to utilize our drop-off shredding service for when you have a small amount of documents that you need shredded. We provide convenient San Francisco drop-off shredding services at our location, where we shred your documents in-house. No appointment is necessary, and most drop-off services are completed the same day.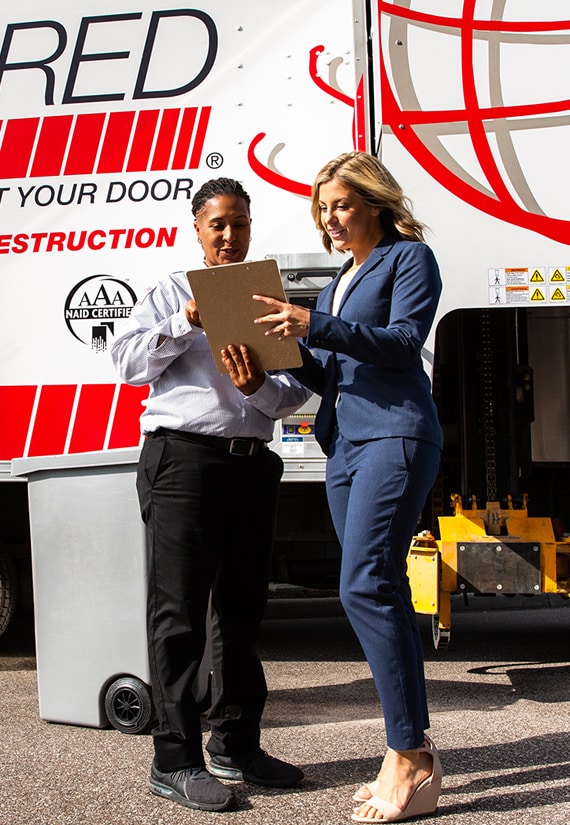 Get Convenient San Francisco Mobile Shredding
So how does mobile shredding work? When you schedule an on-site service, one of our Customer Service Professionals will drive a state-of-the-art PROSHRED® branded shredding truck to your location. These trucks contain a built-in industrial shredding machine that can shred up to 2 tons of paper in just one hour. This means we will be in and out of your facility quickly, causing minimum disruption to your day. We also ensure that the entire process is touch-free. We will take your boxes and dump them into a shredding bin that is then loaded into the truck with a mechanical arm, and you can watch the entire process as it happens. Once your documents have been shredded, we will provide you with a Certificate of Destruction for your records and take the shredded paper to a local recycling facility, where 100% of the paper is recycled.
On-Site Hard Drive Destruction
At PROSHRED® San Francisco, we do more than just shred paper. We also provide on-site hard drive destruction using the same mobile shredding method, where we drive right up to your door and collect your hard disk drives for shredding. We capture the serial numbers of each drive and then carefully destroy them before providing you with an invoice and Certificate of Destruction. This San Francisco hard drive shredding service is crucial for disposing of your end-of-life hard drives, because simply erasing data does not ensure that a hard drive's information will be unretrievable. After we shred your hard drives, we ensure that 100% of the scrap material is recycled.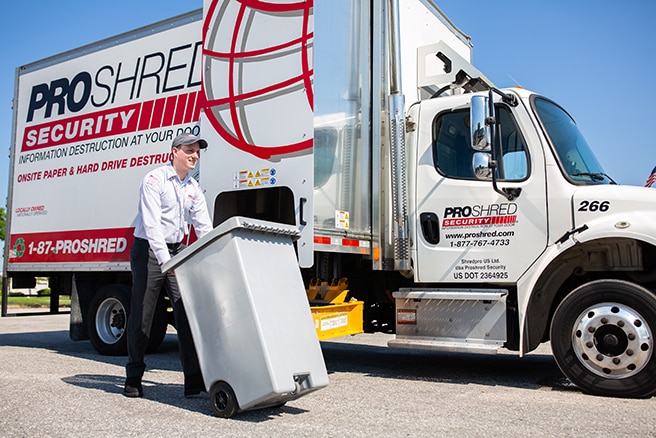 Stay Compliant with San Francisco Shredding Services
Our goal is to help San Francisco businesses meet the security and accountability needs of their industry. Our unique mobile shredding solutions are tailored to your schedule, and we offer the flexibility of a security program that is customized to your needs. If you have confidential information you need to dispose of securely and quickly, PROSHRED® San Francisco Bay Area can help. Give us a call today to learn more!
San Francisco Shredding Services
On-Site Shredding
Scheduled Shredding Service
One-Time Shredding
Legislative Compliance
HIPAA Compliant
HITECH Compliant
GLBA Compliant
FACTA Compliant