Santa Clara Shredding Services
Looking for an easy and convenient way to dispose of old documents, hard drives, and products? PROSHRED® can help! Our mobile shredding trucks can come to your location and destroy your confidential documents and hard drives on-site, and we can also take your products for secure destruction off-site. Whatever your Santa Clara shredding needs, we have a solution for you.
Convenient Santa Clara Shredding
Most business owners understand the importance of protecting confidential information, whether that be personal information, client information, employee information, or business information. Not only is proper data storage and disposal good for your business reputation, it's also a way to ward off potential legal trouble.
Multiple state and federal privacy laws have stipulations for how documents and other items that contain sensitive information are disposed of after they are no longer needed. If these items are carelessly discarded, your company could be held liable. That's why proper document and hard drive destruction services are necessary to remain in compliance with laws like FACTA and HIPPA. At PROSHRED®, we are committed to helping businesses protect their confidential information and maintaining compliance with the law.
Industries we serve include:
Businesses
Medical offices
Financial Institutions
Legal Offices
Small Businesses
Universities and colleges
Home offices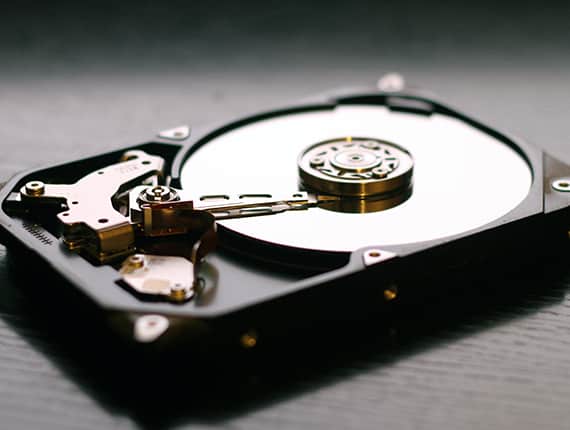 Hard Drive Shredding Santa Clara
Like sensitive paper documents, hard drives should never be tossed in the trash. In addition to being harmful to the environment, getting rid of hard drives without properly destroying them can pose a huge security risk. Wiping a hard drive doesn't completely erase all of the data stored on the device, so it's important to have your hard drives destroyed with a Santa Clara hard drive shredding service.
At PROSHRED®, our mobile shredding trucks are capable of shredding hard drives into small pieces so that the information they contain is no longer accessible by hackers. Once the drives are shredded, they are taken to a local recycling facility for further processing, so you can rest assured that you are taking the most sustainable course of action when getting rid of your old digital files
Regularly Scheduled Mobile Shredding
Paper shredding has always been the most popular service we provide, and for good reason. We provide consistent, cost-effective shredding services in the Santa Clara area. When you schedule a pickup with us, we will drive one of our specially equipped, state-of-the-art shredding trucks to your location.
We will empty your papers into the industrial shredding machine located inside the truck with a no-contact process that is completely secure and transparent: you can watch the entire service take place from your door, and even watch your papers be shredded with a closed-circuit monitor on the side of the truck. From there, the confetti-like pieces of paper are transported to a secure recycling facility and made into new paper products.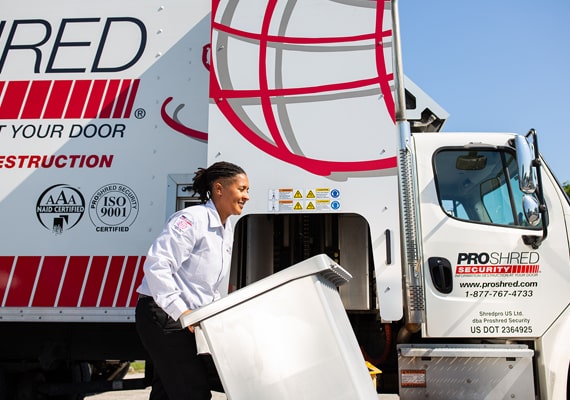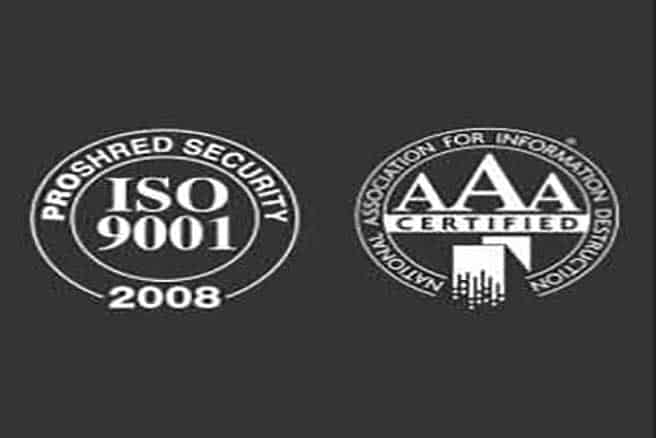 One-Time Document Shredding Service
If a regularly scheduled shredding service is too frequent for your needs, you can opt for a one-time purge shredding service. This is a convenient way to dispose of large quantities of documents without having to load up boxes and transport them to be shredded. We will utilize the same mobile shredding truck as our regularly scheduled shredding service to shred your bulk documents on-site. If you're in need of a warehouse cleanout or need to get rid of old records that have been digitized, a Santa Clara purge shredding service can provide you with secure document disposal and peace of mind.
Get Secure, Professional Shredding with PROSHRED®
Office shredders are a thing of the past. Not only do they take up valuable staff time and resources but are slow to operate and create paper shreds that can easily be pieced back together. With shredding services from PROSHRED®, you can have all of your documents and hard drives professionally destroyed with our convenient, hassle-free services. We charge a flat rate and will never hit you with hidden fees or surcharges, and our drivers are trained to uphold the highest standards in information security. When you're ready to ditch the office shredder for good, trust PROSHRED® San Francisco Bay Area!
Santa Clara, CA Shredding Services
On-Site Shredding Santa Clara, CA
Scheduled Shredding Service Santa Clara, CA
One-Time Shredding in Santa Clara, CA
Hard Drive Destruction Santa Clara, CA
Legislative Compliance
HIPAA Compliant
HITECH Compliant
GLBA Compliant
FACTA Compliant