September 8, 2021
Is Shredding Paper Really Necessary? 5 Myths About Paper Shredding, Debunked
You may think that your business is better off without professional paper shredding services. The fact of the matter is, however, that these services could potentially save your business time and money, as well as prevent situations like identity theft that can ruin your reputation.
If you are hesitant to sign on for a paper shredding service because you have heard rumors about it being costly or a cumbersome process, PROSHRED® San Francisco Bay Area is here to debunk these myths in this blog.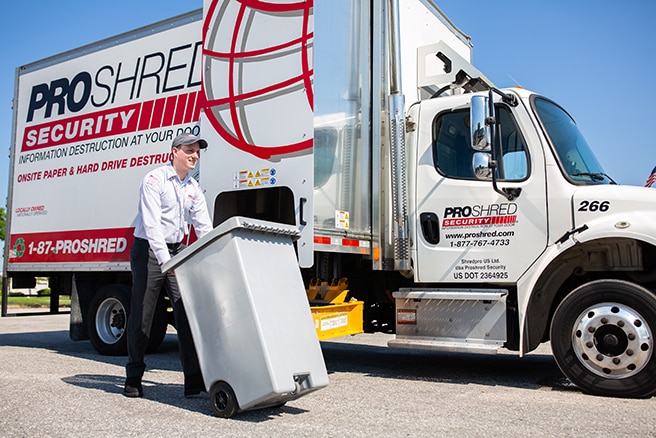 Is shredding paper necessary?
Answer: Always!
When it comes to the security of your personal information, it's always better to be safe than sorry. Even items like junk mail and credit card offers can contain information like your name and address, and unless you want someone to have access to that information, you should shred these items. From medical bills to voided checks to expired insurance policies, it's important that you take the extra step of having your documents securely shredded so that criminals can't have access to information that they could use to commit identity theft or fraud.
When you sign on for San Francisco paper shredding, these are the types of materials that you should collect in a safe place for your regularly scheduled shredding service:
Documents that contain confidential information, such phone numbers, credit card information, passwords, Social Security Numbers, signatures, birthdays, and any private account information.
Printed files and forms that are outdated.
Filing folders that are manila and colored – EXCEPT army green. These are not paper-based.
Spiral-bound notebooks and presentation folders that contain old and outdated information.
Old checks, payment copies, and receipts.
Expired passports, drivers licenses, ID cards, and security badges.
For more detailed information about document retention and specific documents you should hold onto, view this guide on what to shred.
Is professional paper shredding worth it?
Answer: Yes!
Having a professional company shred your paper is absolutely worth it. There are so many benefits to shredding with a certified service provider like PROSHRED® San Francisco, such as:
Professional paper shredding is convenient. Our team comes to your door, so you don't have to worry about taking the time to make a trip to a paper shredding location.
Professional paper shredding is affordable. Paper shredding pricing with PROSHRED® San Francisco is based on the amount you shred, and we tack on no additional fuel surcharges or hidden fees. Our team works to develop a shred plan that fits your budget and your needs when you first call us for a service.
Professional paper shredding is secure. Your documents remain secure throughout the shredding process. These items are highly monitored, and are handled by certified shredding technicians who are vetted before they join our team. You can even watch the entire process from start to finish when we bring a mobile shredding truck to your door!
Professional paper shredding helps you stay compliant. At the end of every shred job, you can request a Certificate of Destruction as proof of the shred. You can use this if you need evidence of compliance with laws regarding how you handle your company, client, or patient information.
Professional paper shredding saves you time and money. By putting your shredding burdens on a team of professionals, you and your employees no longer have to worry about wasting time shredding your documents in-house with a slow, noisy office shredder. You also don't have to eat the cost of store-bought shredding equipment that won't even effectively destroy your old files.
Professional paper shredding is fast and easy. The shred trucks at PROSHRED® San Francisco can shred large amounts of paper at once, so you can free yourself of these old files in no time at all! When you sign up for regularly scheduled shredding services, we provide secure bins and consoles for you to place your shredding materials between services, so that when it comes to pick up day, your work is already done!
Can you shred paper with staples?
Answer: Yes, you can!
When you use the shredding services of PROSHRED® San Francisco, you don't have to worry about removing paper clips and staples from your documents. These things can still be attached to your shredding materials when it is time for your shredding service. The state-of-the-art shredding equipment that is built into our mobile shred trucks won't break down or lag just because there is a staple or paperclip in your paperwork. Regular office shredders can't handle these tiny metals, but PROSHRED® San Francisco can!
Can you recycle shredded paper?
Answer: It depends!
When you use an office shredder, it isn't recommended you place shredded paper in the recycling bin. The remains that are left over from a store-bought shredder are still recoverable, and anyone with a little patience and a lot of glue can reclaim the information that is stored in these shredded items.
But when you use a professional, scheduled document shredding service like PROSHRED® San Francisco, you get peace of mind in regards to the security and sustainability of our shredding practices. After your items have been shredded, and all that remains is unrecoverable paper granules, our team takes these materials directly to a trusted paper recycling partner. This ensures that your items are safely recycled.
Is professional paper shredding expensive?
Answer: Nope!
Using a professional paper shredding service is much more affordable than most people think. Plus, when you compare the paper shredding charges to the amount of time and labor you're saving, as well as the cost of maintaining an office shredder, it's definitely worth it!
PROSHRED® San Francisco Offers Secure, Professional Paper Shredding
PROSHRED® San Francisco Bay Area is here with secure, convenient, and affordable paper shredding options for your business. Our mobile shred trucks allow us to perform our services at your location, so you can watch your documents get destroyed from right outside your door. We can design a custom shred plan that meets your unique needs while staying within your budget range. Get a quote from our team today and get started with professional paper shredding services! 1-925-271-7566